But will it be a good thing or a bad thing for this case to go through and for the citizens of the United States to be told that they have a usurper president??
This could lead to the civil war the controlling elite bankers are looking for!

Edward Laughlan
Federal judge allows Obama eligibility case to go forward
By Linda Bentley | September 9, 2009
SANTA ANA, Calif. – On Sept. 8, U.S. District Court Judge David O. Carter ordered a scheduling conference for Oct. 5, 2009, allowing the Obama eligibility case filed by Dr. Orly Taitz, Esq. on behalf Captain Pamela Barnett, Alan Keyes and others to proceed.
Carter wrote, "The responsibility for the progress of litigation in the federal courts falls not only upon attorneys in the action, but upon the court as well. Accordingly, the court issues this order."
Taitz filed a declaration of Lucas Daniel Smith with an exhibit on Friday.
Smith, a 29-year-old American citizen from Iowa, signed an affidavit, under penalty of perjury, stating he "traveled to Kenya and Mombasa, in particular, with the intent to obtain the original birth certificate of Barack Hussein Obama," as he was told previously it was on file in the hospital and under seal, due to the fact the Kenyan Prime Minister is Obama's cousin.
Smith states he visited Coast General Hospital in Mombasa, Kenya on Feb. 19, 2009, accompanied by a citizen of the Democratic Republic of Congo, and said he had to pay a cash "consideration" to a Kenyan military officer on duty to look the other way while he obtained the copy of the birth certificate.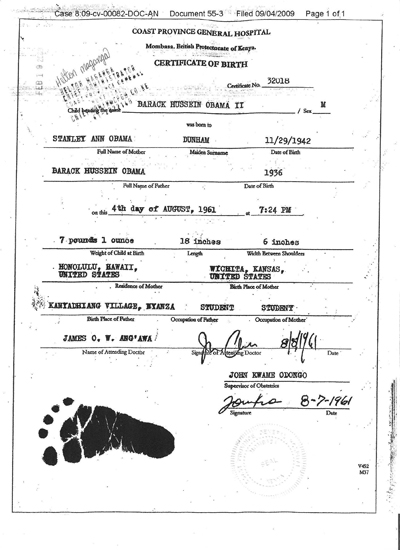 According to Smith, the copy was signed by the hospital administrator and contains the embossed seal. As an exhibit, Smith provided the "true and correct photocopy of the birth certificate obtained."
Meanwhile, defendants filed a motion to dismiss stating, "Plaintiffs ask this Court to entertain a challenge to the 2008 election of President Barack Obama by requiring the President to disprove, in this Court, their innuendo alleging that he is not a 'natural born citizen' within the meaning of the United States Constitution. Plaintiffs cannot use this Court to investigate and decide the President's fitness for office or their related claims …
"Plaintiffs also seek to litigate in this court a variety of vaguely-defined claims purportedly related to a hodgepodge of constitutional provisions, civil and criminal statutes, and the Freedom of Information Act. These claims are equally flawed ..."
Jeff Schwilk, founder, San Diego Minutemen, attended the Sept. 8 hearing and reported back, "Judge David Carter refused to hear Obama's request for dismissal today, instead setting a hearing date for Oct. 5. He indicated there was almost no chance that this case would be dismissed. Assuming Judge Carter denies Obama's motion for dismissal, he will likely then order expedited discovery which will force Obama to release his birth certificate in a timely manner.
According to Schwilk, Carter, a former U.S. Marine, repeated several times that this case is very serious and must be resolved quickly so that the troops know their Commander in Chief is eligible to hold that position and issue lawful orders to our military in this time of war.
"Plaintiffs' Attorney Dr. Orly Taitz did a great job, winning some huge victories today," said Schwilk, adding, "She was fearless!"
Carter requested all counsel familiarize themselves with the Federal Rules of Civil Procedure and the Local Rules of the Central District of California in order "to secure the just, speedy and inexpensive determination of every action."
Carter admonished counsel that a continuance of a scheduling conference is rarely granted and a continuance will only be granted only for good cause.
There is so much deceit and corruption involved in the Obama fraud, and in American politics and elections in general (please see below videos), to make a person give up completely on governments, but is that not exactly what the elite have always been aiming at? Of course it is! They are trying their damnedest to sicken us completely of politics, politicians
and out of control governments so that they can come forward and give us their solution - "Let us bankers do the job. We can surely do it better for you". And all the people will cry "Yes, please take over and do the job right for us."

Edward Laughlan
"We are grateful to the Washington Post, the New York Times, Time magazine, and other great publications whose directors have attended our meetings and respected their promises of discretion for almost 40 years. It would have been impossible for us to develop our plan for the world if we had been subjected to the lights of publicity during those years. But now the world is more sophisticated and prepared to march towards a World Government.
The supra national sovereignty of an intellectual elite and world bankers is surely preferable to the national auto-determination practised in past centuries."
Purportedly at a meeting of the

Trilateral Commission

(June 1991); as quoted in Matrix of Power: How the World Has Been Controlled by Powerful Men Without Your Knowledge (2000) by Jordan Maxwell